Important funding for Rossa and other abandoned animals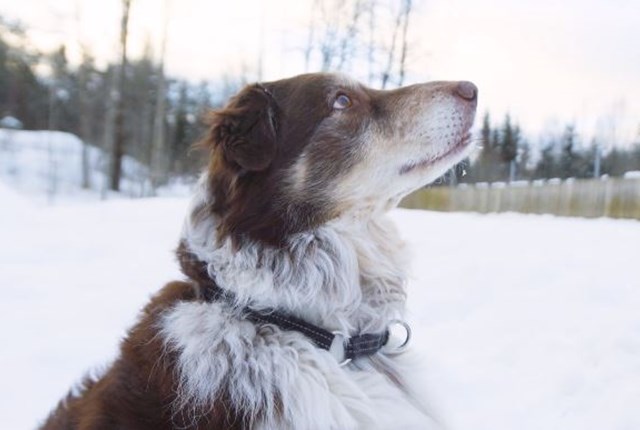 Rossa was traumatised and very frightened. Then she was taken in by the Association for the Rehoming of Animals (FOD), and is now much more self-assured. Grassroots Share donations are enabling even more animals to get help!
FOD is a charitable organisation located in a wooded area south of Oslo. It works to find new and stable homes for homeless cats and dogs.
Rossa the mongrel arrived here two years ago. The family that had purchased her online was no longer able to look after her.
"They were told that she was a family dog, but she proved to have been both traumatised and abused", says Mette Sommer, who works at the centre.
Sommer has been working in the animal welfare sector for 25 years and has been a volunteer at the FOD centre for seven of these. She says that Rossa was the most frightened dog that the centre had ever taken in. She has now been living at the centre for two years, and her progress has been enormous.
"She has become very attached to certain people", says Sommer. "She loves getting attention and in between her walks she'll readily lie on her back for a tickle from someone she trusts. She has changed totally and we're hoping that one day we'll find her a good home", she says.
Finding new homes for abandoned dogs
Since 1980, FOD has found new homes for more than 9,000 cats and dogs. The animals at the centre are of all ages, and no animal is turned away, regardless of breed, appearance or state of health.
Some of the dogs and cats come from domestic homes where their owners may be allergic, getting divorced or moving house.
Unfortunately, many animals come to the centre after a history of neglect, delivered by private individuals, the police or the Norwegian Food Safety Authority. What they all have in common is that they need special care.
"At FOD we tailor our care to each animal individually", says Sommer. Some of the dogs need long walks. For others a short walk will do. We feed them, pet them and play with them, and work with tracking and agility. All the dogs have their own personality, and we treat them as individuals", she says.
High veterinary costs
At any given time there are between 20 and 30 different kinds of animals housed at the centre. The organisation also works to find new homes for dogs, and currently has between 200 and 300 cats in foster homes. Animals that arrive at the centre often have a history of neglect or abuse and require rehabilitation. They frequently have health problems that require close veterinary monitoring.
"All our animals are seen to by vets, and receive close monitoring", says Sommer. "We're reliant on financial support. Food for the animals, equipment and running costs. It all costs money", she says.
3829 grassroots players are helping to fund FOD
The FOD receives no public funding. All its money comes from donations, membership subscriptions, gifts and inheritances. But the centre has as many as 3829 supporters among Norsk Tipping's players who have chosen to donate their grassroots share to the FOD.
In 2017 more than 1.4 million kroner in grassroots revenues were donated to FOD.
A big heart for the animals
Finding new and stable homes for homeless animals is time-consuming and demanding work. This is because FOD doesn't hand over animals for adoption to just anyone. The Association works to ensure that the animals are welcomed into new and safe homes and will do everything to prevent them experiencing traumatic incidents.
Animal welfare has top priority. Together with a rational approach, the emotional considerations are always in mind when FOD is looking to rehome its animals. This has resulted in very few returns.
"I know I've had a good shift at work when we've had a dialogue with a good family and have found a match for the animal", says Mette Sommer. "Perhaps they've fallen for a cat that has been with us for a little too long that no one else will adopt. Then we can say that we've done our job", she says.