Wanted to surprise, and got a surprise himself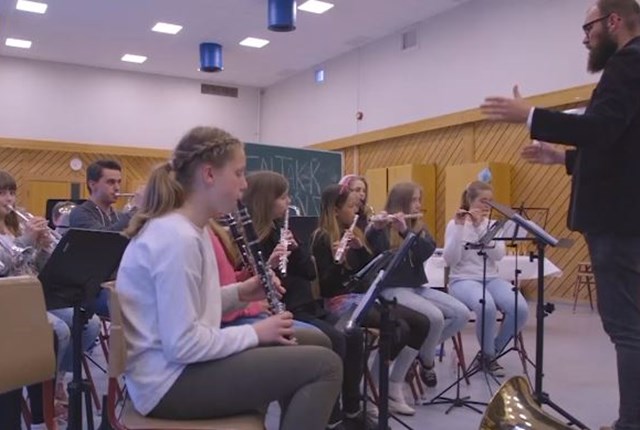 19 year-old Kristian Dragsten wanted to surprise the Løten School Band with his own Camp Grasrot prize of 20,000 kroner. What he didn't know was that the band was planning to surprise him too.
"I was really looking forward to it! I've been working hard to raise this money, so it was going to be fun handing over the cheque to the band!", says Kristian.
He had brought flowers as well as the cheque for 20,000 kroner. In March he was a member of Harald Rønneberg's team in the Camp Grasrot competition. "Team Harald" won the competition on aggregate against Thomas Numme's team, and the prize of 100,000 kroner was shared between the five team members, each of whom received 20,000 kroner which they in turn handed over to their respective grassroots recipients.
Confetti and cake
"I think it's important that all children and young people should have an opportunity to play music. This is why the Løten School Band gets my prize", says an enthusiastic Dragsten.
The 19 year-old opens the door of the rehearsal room to congratulate the band on their new funds. Suddenly he is showered with confetti, and the band starts playing to cheers and applause.
"Wow! What an awesome welcome", says Kristian. "I thought I was going to surprise them, so it was quite something to be greeted by a party and the band in full swing! I was very happy and very surprised. Thank you", says the Camp Grasrot winner, smiling from ear to ear.
An impressive effort
The Løten school band had been keeping an eye on the various competitions that Dragsten had taken part in as part of the Camp Grasrot event and was impressed with the effort he was putting in. After snowshoe football, kissing competitions, hair cutting (as much as possible) – and more, the band wanted to make this a proud occasion for the young enthusiast. Band leader Henning Søbakken says that they thought that a real hero deserved their thanks in the form of cake and soft drinks, not to mention a well-rehearsed march.
"We really appreciate the effort that Kristian has put in" "We need new uniforms, so these funds are very welcome and we're very happy to receive them. We're proud that Kristian selected us as his grassroots recipient.