CEO 2017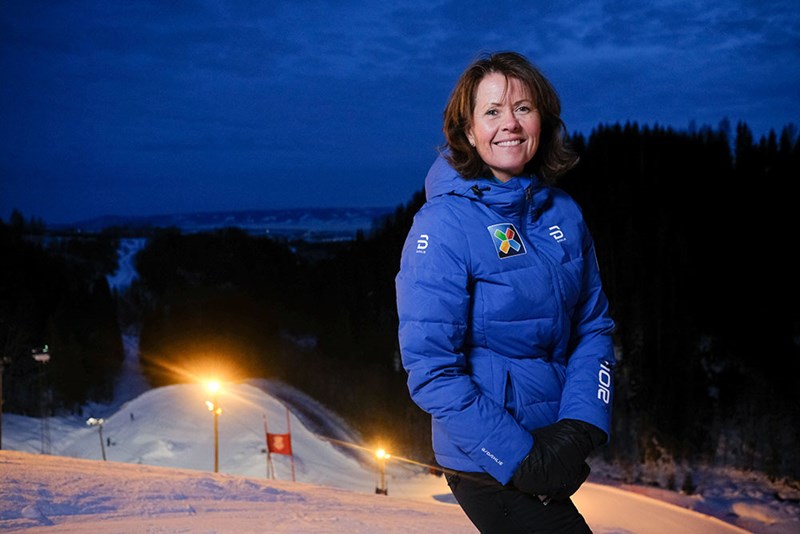 Åsne Havnelid has her sporting roots on the alpine pistes. Firstly as an athlete, and then for many years as a skiing coach. This experience means that Norsk Tipping's top executive always skis without poles. "No alpine skiing trainer uses poles", says Åsne. "They have to carry stakes, drills and other equipment. Poles just get in the way".
Åsnes Havnelid's local club was just like most others – with enthusiasts passionate about voluntary work, offering traditional waffles and a burning desire to create something meaningful for the young people in their community. Just like in Lierberget, where the young skiers in the alpine group at Vang Skiing Club enjoy their training. It is in arenas like this that Åsne caught the voluntary work bug, and it is from there that she obtained her deep understanding of how crucial external funding is to support the tireless work of volunteer enthusiasts. As Norsk Tipping's CEO, she understands the expectations that volunteers have of the important contribution that funding from gaming revenues represents. However, there is another factor that is even more important.
Renewed mandate
The main objective of the gaming policy is to prevent problem gambling, and the state monopoly model is the best means of achieving this aim. This was the clear message sent by the Norwegian Parliament during consideration of the government White Paper on gaming in the spring of 2017.
Both government and parliament simultaneously set out an important prerequisite for the role of the state monopoly model – legal organisations such as Norsk Rikstoto and Norsk Tipping must succeed in gathering support from a large proportion of their customers in the face of ever-increasing levels of competition from companies that do not have a licence to offer gaming products in Norway.
This is the mandate, or task, that we at Norsk Tipping see as the foundation for the organisation of our activities, and has governed the important decisions we have made in 2017.
Agile governance
The Norwegian Parliament has made it very clear that prevention is the guiding consideration in the formulation of gaming policy. It is more important than profit. While working with our strategies in 2017, this has been our most explicit guiding principle – we must be more ambitious in our work to promote prevention and responsible gaming. At the same time we must keep pace with our customers' demands. Our gaming products must provide fun and excitement every day and at even higher levels if we are to remain attractive to our players.
A higher tempo, increased competition and technological advances require faster development of products and services in order to meet our customers' demands. This requires new innovation and development methods, and demands an alternative and more flexible approach to leadership. The new slogan is "agile governance", consisting of enhanced flexibility, rolling action plans and an increased ability to respond quickly if necessary and respond to changing circumstances.
Developing the organisation
With the same objective in mind, we have launched a comprehensive process designed to restructure our organisation in an even better way, allowing us to deliver in response to increasing market demands. The process has been thorough, and everyone has been given the opportunity to state their views about where they feel pressure is greatest and what we have to do to achieve our aims. The entire organisation is involved in this process at one level or another, and in spring 2018 we will have a new model ready for implementation. Our foundation consists of the company's values, which have been prepared as part of an in-house process characterised by great enthusiasm and broad participation. Our value platform – Competent, Generous, Ambitious, Courageous and Magic – forms the basis on which our culture will be developed. In Norwegian, these form the acronym "DRAUM" (Dream).
Our role in society
Once again, Norsk Tipping can boast of record high profits for the funding of good causes beneficial to our communities. More than NOK 5.2 billion have been distributed for the benefit of communities all over Norway. The money acts as a catalyst for voluntary work in the fields of sport, culture, emergency preparedness, improved health and other humanitarian work. More than NOK 450 million is distributed by players themselves via the Grassroots Share (Grasrotandelen). In this way they are donating directly to the causes they are most enthusiastic about.
Our profits are a good indicator that we are delivering on an important aspect of our role in the community – attractiveness. We are very successful in encouraging players to select products in the legal and regulated gaming market. During 2017 the company has attracted more than 82,000 new customers. Almost half a million of our customers are under 40 years of age. At the end of 2017 Norsk Tipping had more than 1,960,000 customers, a small increase on the year before.
However, such healthy figures should not make us complacent about the key challenge facing us in the years ahead – making sure that once they have decided to spend money on gaming, younger players choose Norsk Tipping's products. As well as instilling both a knowledge of, and confidence in, the company's role, we must deliver products and services that meet young people's demands for entertainment. In brief, Norsk Tipping has to be, and be seen as, a relevant and modern gaming company, especially for young people.
Digital media have continued to advance in 2017, and about 50 per cent of our turnover is generated via these media. Unsurprisingly, gaming via mobile phone is enjoying most growth, but we should not forget that large numbers of our customers continue to enjoy submitting their coupons across our sales agents' counters. And at the same time perhaps exchange a 'good luck' wish and a chat into the bargain! Norsk Tipping considers its sales agents to be invaluable partners. They must take their share of the credit for the company's success. In spite of increased levels of digitalisation, transactions across the counter will represent billions in revenues for the company for many years to come.
Big prizes attract customers
Norsk Tipping's four year-old prize record was beaten overwhelmingly in 2017. In August, one lucky man won an amazing NOK 441 million in the Eurojackpot. Three months later, a woman won about NOK 100 million less on the Vikinglotto lottery. Games with big prizes attract customers, and the interest this generates demonstrates the healthy effect that a lottery can have in bringing players together in an activity that can only contribute in a very minor way to problem gambling. Robust and community-based lotteries are very effective in attracting players to the regulated market. The company will be looking more closely at both preserving and renewing the attractiveness of our existing products, and identifying the gaming products of the future. International collaboration may be one of the keys to identifying the next great breakthrough. For this reason, we will be focusing more intensively on our international innovation work in the future.
Prevention
The most important thing of all is to ensure that we have a good overview of the extent of the problematic aspects of gaming. Figures from the Playscan tool, which we use to monitor changes in our customers' gaming behaviour, tell us that our balancing act is succeeding, even in a year of record prizes. This is supported by statistics from the Help Line service. A world-leading framework for responsible gaming ensures that we are succeeding in our balancing act between offering attractive products and the prevention of gambling problems – between commercial success and the protection of our customers.
This doesn't mean that we have achieved all of our aims. Far from it. Our greater ambitions in the field of responsible gaming leave us no time to rest on our laurels. The knowledge we have acquired about our customers' gaming habits provides us with even greater opportunities, but also a greater responsibility. Knowledge brings responsibility.
Our reputation
What gives me the greatest pleasure is the high level of confidence that Norsk Tipping instils among the Norwegian people. In 2017 the company achieved fifth place in TNS Gallup's major reputational survey.
Confidence and a good reputation are prerequisites for success, both in the purely commercial field, as well as in maintaining our legitimacy and an understanding among the Norwegian people of the role we play on their behalf. We must work every single day to deserve our good name. The requirements demanded of us by the market are increasing all the time, and it's easy to take a wrong turn.
Above all else we have to keep our own house in order. High levels of integrity linked to our draws and prize payments are essential if we are to deserve the confidence that the public has in us. Stable and secure technical operations, which in 2017 provided us with more than 99 per cent uptime, contribute to the same objective. It is prerequisite that we can document efficient operations, ensuring that as much of our revenues as possible reach our profit recipients. In 2017 we achieved even better reductions in our expenditures.
Audits
It is important that Norsk Tipping's activities are transparent and accountable. For just this reason the Norwegian Gaming and Foundation Authority carries out comprehensive audits of how we carry out our role. The authority carries out regular audits of our activities linked to security, marketing, the draws and our work to promote responsible gaming. We receive very few non-conformance reports.
Following the audit carried out in 2017, the authority pointed out that we have an issue related to the fact that player cards are being loaned to players who have reached their maximum loss limits. Such illegal activities, whether carried out by irresponsible sales agents or private individuals, undermine the system intended to ensure responsible gaming and problem prevention. We take this issue very seriously and are working with measures that will uncover and prevent such practices.
Social responsibility
The prevention of problem gambling lies at the very heart of how the company perceives its social responsibility. But our work in this field goes deeper than that, and the expectations of both our owner and society in general are on the increase. In 2017 we have been clearer and more explicit in expressing what we believe are the most important issues we must work with in order to reduce our footprint. We also want, to a greater extent than previously, to utilise our position to highlight other areas where work remains to be done. We have the resources and the ability to go the extra mile.
Boys and girls shall be afforded equal opportunity, also on the sports field. Although this is obvious, it doesn't always happen in real life. As part of our work in the field of social responsibility, one of the seven issues we have selected to work with combines equal opportunity and diversity. This coincides with one of the UN's 17 goals for sustainable development. Norsk Tipping can make a positive contribution, and in 2017 we focused in particular on ensuring that girls playing football should have the same opportunities and access to resources as boys. This promoted some excellent discussions, and we put our money where our mouth is by entering into sponsorship agreements with the Norwegian Women's Football League Association. I'm looking forward to seeing what results we can help to achieve!
The other areas on which we have directed special focus include human rights, the environment, business ethics, anti-corruption and health. Health in particular is closely associated with the most important part of our role in society – the prevention of problems linked to problem gambling. Moreover, a large proportion of our profits goes to promoting better health, either via sports or the foundations and organisations that work with prevention, rehabilitation, emergency response services and treatment initiatives. Our strategic ambition, involving playing an even more important role in society, is linked directly to the work we do in connection with our social responsibility. Effective and targeted work linked to social responsibility contributes towards achieving this ambition.
More players in the market
In 2017, more legal gaming companies entered the market as a result of the launch of new lotteries that were granted licences in 2016. These lotteries are finding their positions in the so-called residual market, and as such will not threaten the state monopoly model. It will be exciting to see whether they succeed. Our competitors from the unregulated parts of the sector are not taking it easy either, and are continually challenging Norsk Tipping's position and with targeted initiatives. The high tempo digitalisation of society in general, and of the gaming sector in particular, presents us with challenges and an ever-changing operational environment.
In spite of increasing competition from both the regulated and the unregulated sectors, I believe that the Norwegian authorities have every opportunity at their disposal to regulate the gambling market in such a way that safeguards state control, and thus contributes to meeting the objectives of a responsible gaming policy.
At all events, we shall do our utmost to carry out the work we are assigned. I feel safe in saying that the measures we have taken within our organisation in terms of our leadership principles, strategic work and product development will put us in a position to deliver on our role in society at least as well in the years ahead as in the year we have just put behind us.